Google and Bing have designed their search engines to provide direct, fast, and accurate answers to the questions posed by web visitors. After all, they are called Search Engines – not Website Finders. Therefore, you can harness these "answer machines" to provide answers to topic queries that fall outside the website location norm. One of the key features that you may or may not already use are online converters and calculators. These feature an answer or tool at the very top of a SERP, each which comes with its own functionality.
Let's explore what we mean when we say converter and calculator as we review five of the most useful tools within these categories.
¿Cuáles son los mejores convertidores de Google? If you speak Spanish, you can easily comprehend this question in your mind, without the need for any translation to another language. It's a large world though, so there are numerous examples beyond language that illustrate the usefulness of converters. Essentially, converters are adept at helping you translate the same value from one format to another.
Calculators are even simpler than that. For instance, what if you wanted to quickly estimate your annual mileage for customer visits. You may be able to complete this equation in 3-5 seconds with your mind, but computers are literally built to compute equations of all shapes and sizes. Using the right search terms to calculate unit values can be a major time-saver.
Although the feature offering is constantly changing, these are five of the most durable and useful online calculators and converters from Google:
Google Unit Converter
Google Currency Converter
Google Color Picker
Google Numerical Calculator
Google Geometry Calculator
As with all tools, the more frequently you use them, the better results they can return to you. Here is a brief primer on the essential function of each converter or calculator, along with tips for use.
Google Unit Converter
The most wide-ranging converter is the Google Unit Converter. It allows you to easily calculate:
How many pints there are in a gallon (volume conversion),
How many Euros equal a U.S. Dollar (currency conversion),
What a given value in degrees Fahrenheit can be represented in degrees Celsius (temperature conversion),
And much more.
You can input the initial value into the Google search field just like a regular query, but in return you will receive results in the form of a tool. The tool then lets you enter a replacement value on either side of the conversion (=) and instantly delivers updated values. The tool also provides the formula Google is using to make the conversion. Here's an example of the tool in action, with a query for "pints in a gallon":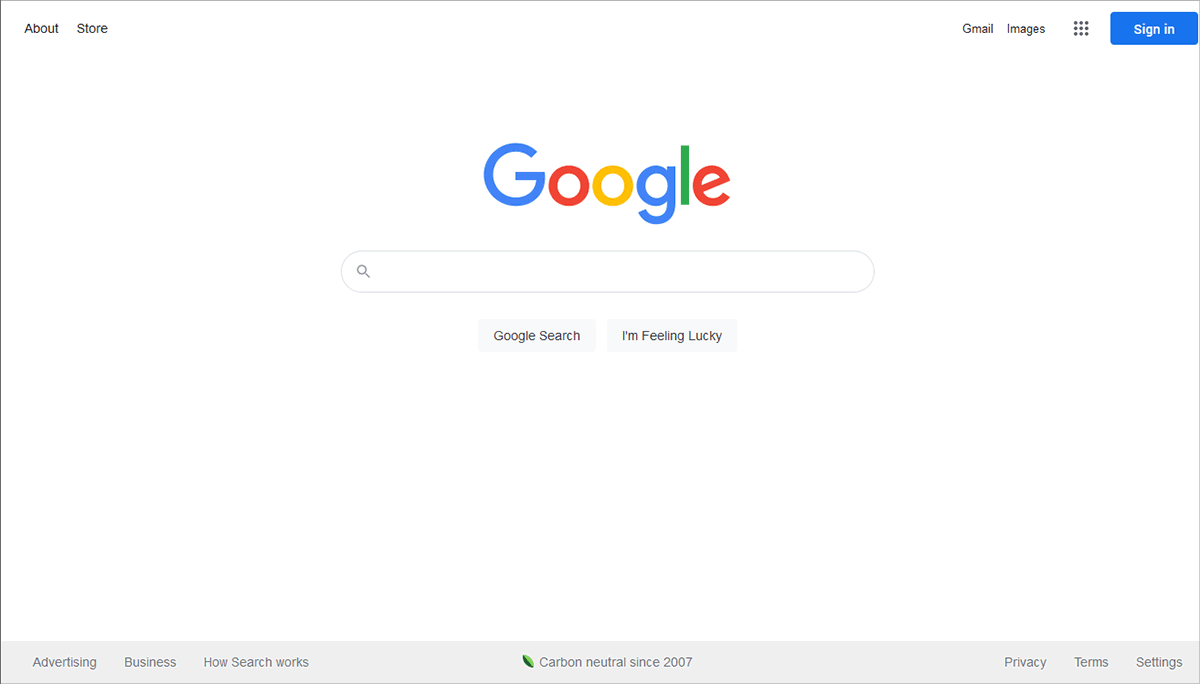 Notice how you can even change your units of measure from gallons to liters (U.S. to metric). Then liters to milliliters (larger factor to smaller factor). Or even change the type of data you want to convert (volume to length). The full list of data types you can convert for include:
Area
Data Transfer Rate
Digital Storage
Energy
Frequency
Fuel Economy
Length
Mass
Plane Angle
Pressure
Speed
Temperature
Time
Best of all, they can all be done in the same tool. One conversion you may find particularly interesting in the Plane Angle conversion: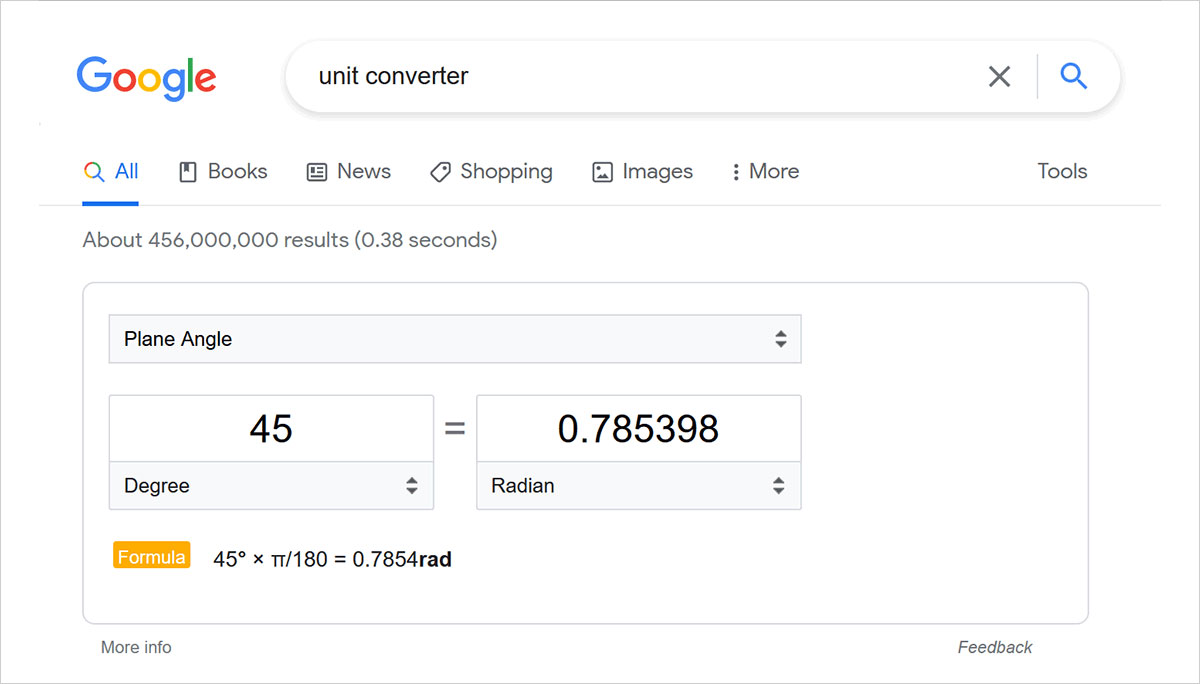 If you are trying to calculate the plane angle of a degree to a radian, minute or second of an arc, it can be a lifesaver. And similar to the data types of volume, length, and the rest, there are additional units of measurement available for Plane Angles.
Google Currency Converter
Currency conversion is similar in functionality to the Unit Converter, but the tool has a slightly modified layout. You can easily change values on the U.S. Dollar or Euro side, plus you can convert 150 additional currencies. Everything is there, from the Afghan Afghani to the Zambian Kwacha. Also, there is a notation that the conversion data comes from outside Google Currency Converter and credits the sources.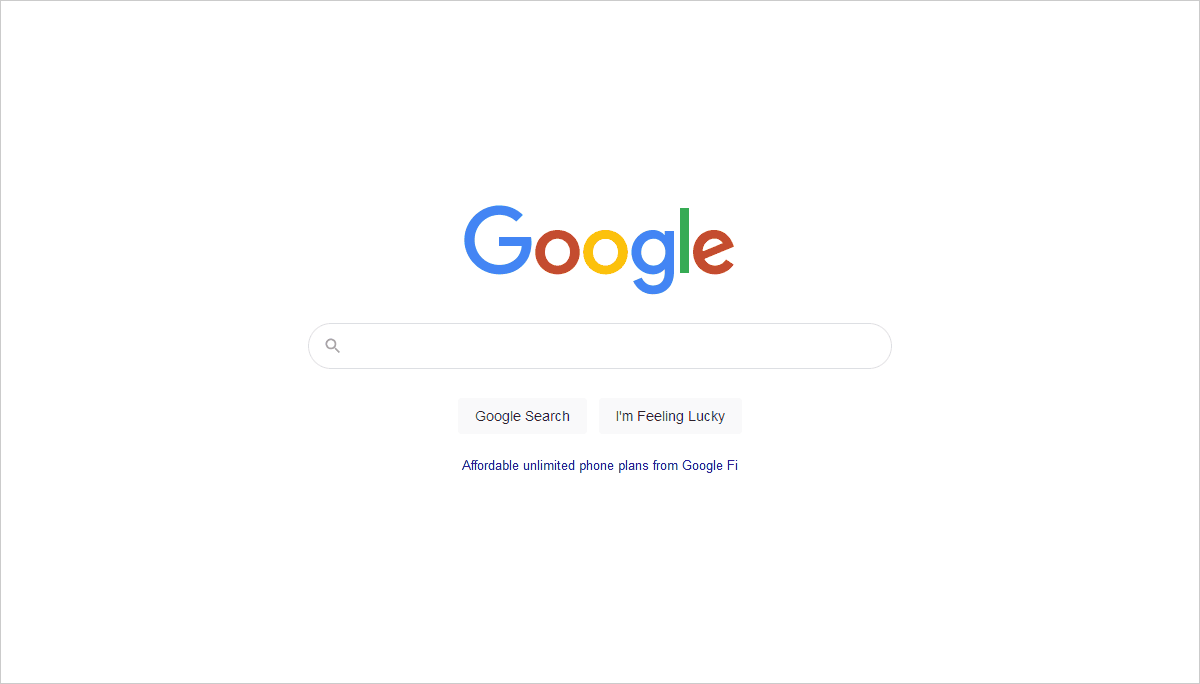 Best yet, you can see how the different value of a certain currency has changed over time. It even allows you to convert currencies that are no longer available.
Google Calculator
As noted with the first two tools, units of measurement conversion have built in formulas with a calculation that occurs behind the scenes.  That calculation works off a more deeply embedded Google Calculator that you can use directly for simple computation. The basic calculator can be found by going to Google and typing in "google calculator":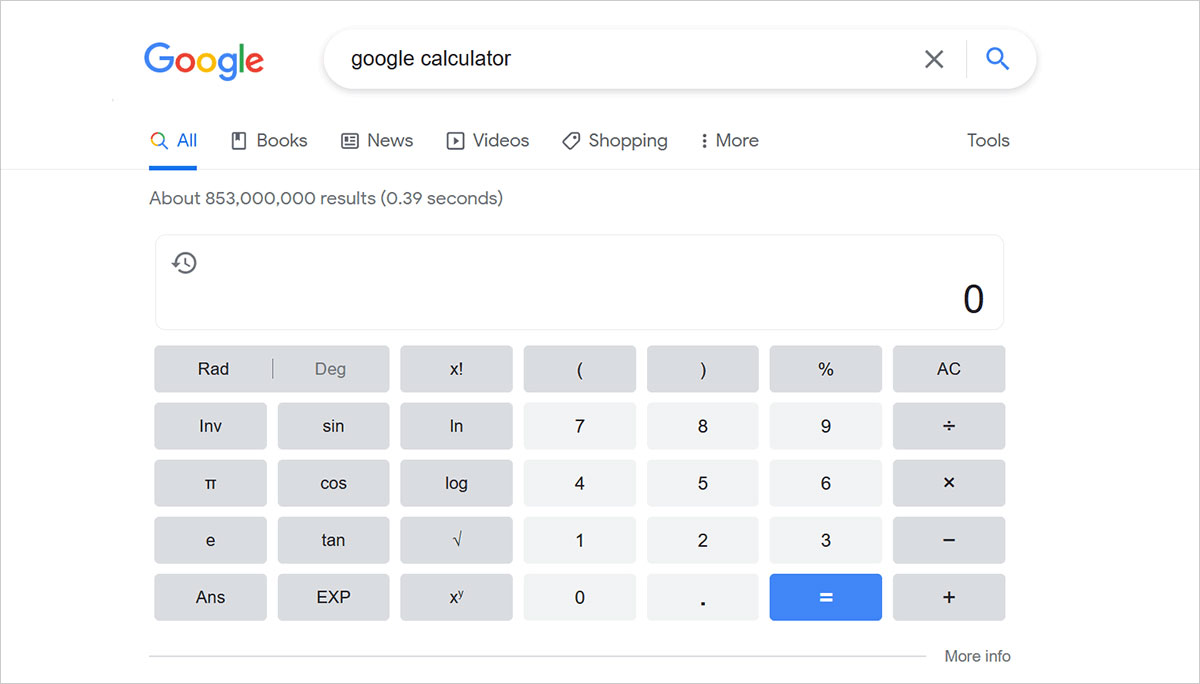 This calculator comes with many of the common functions you find on calculator phone apps. It also follows the order of operations, such that:
2+3*6 returns 20
(2+3)*6 returns 30
Many of these basic calculations will also work directly in the browser search field. That way you don't have to initially search for it to use the calculator tool. Lastly, the calculator tool is even capable of graphing certain functions, making it an incredibly flexible and useful tool.
Google Geometry Calculator
There is a separate Google Geometry Calculator for the area of a circle. This calculator tool lets you toggle between different formulas for Area, Circumference and Diameter, depending on the value you enter for the Radius: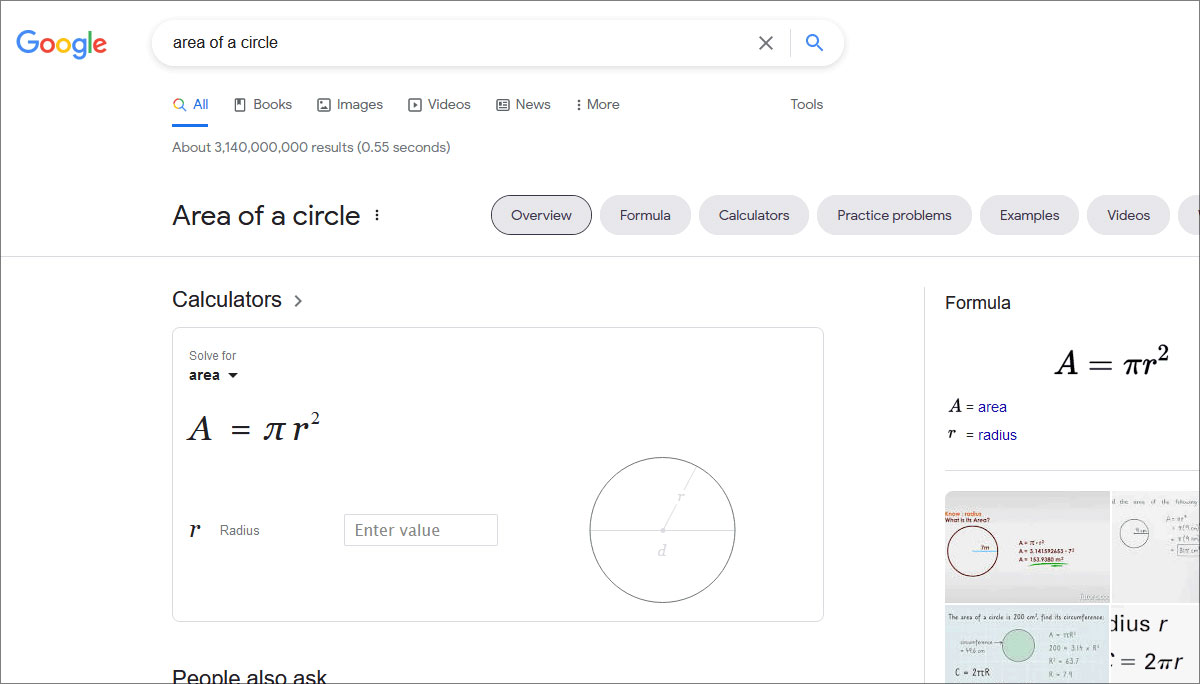 This tool will even work with word problems that you add directly in the Google search field: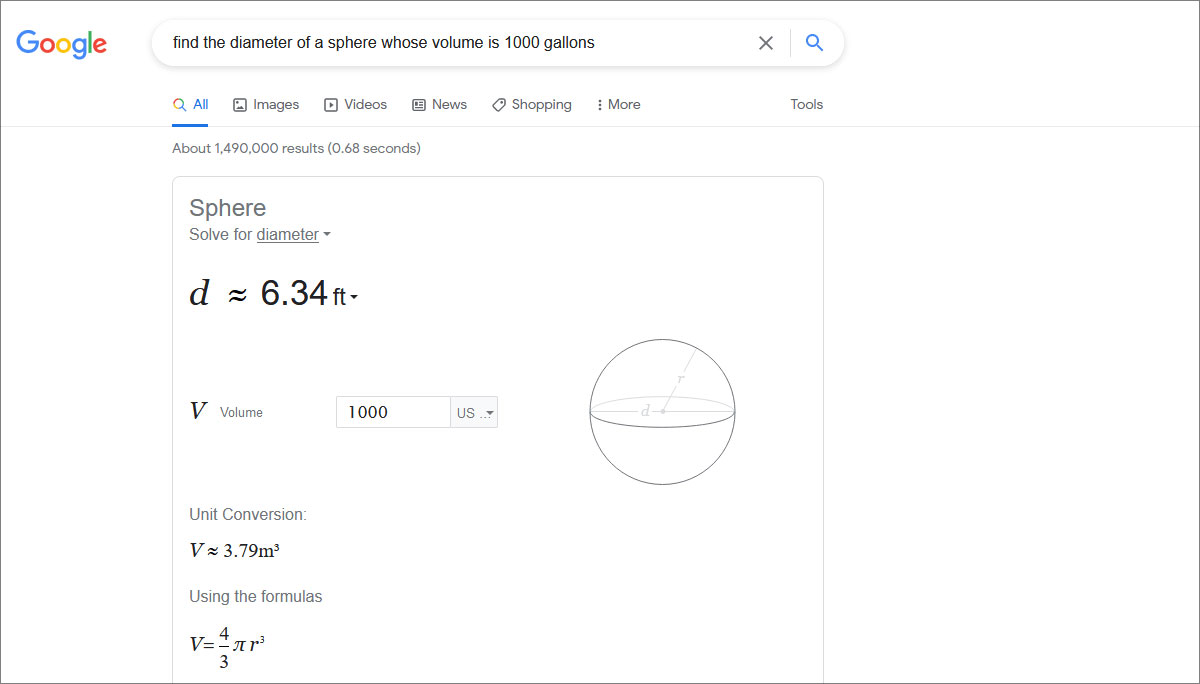 Then, if you select the "Show more" button, the tool will expand to show you the formula and how it solved for the missing value.
Google Color Picker
The fifth and final tool featured here is the Google Color Picker, which helps you quickly convert a color value from print to web use, or anything in-between. After entering "color picker" into the Google search field, the tool will appear in your browser showing several different color models with their specific values, simultaneously: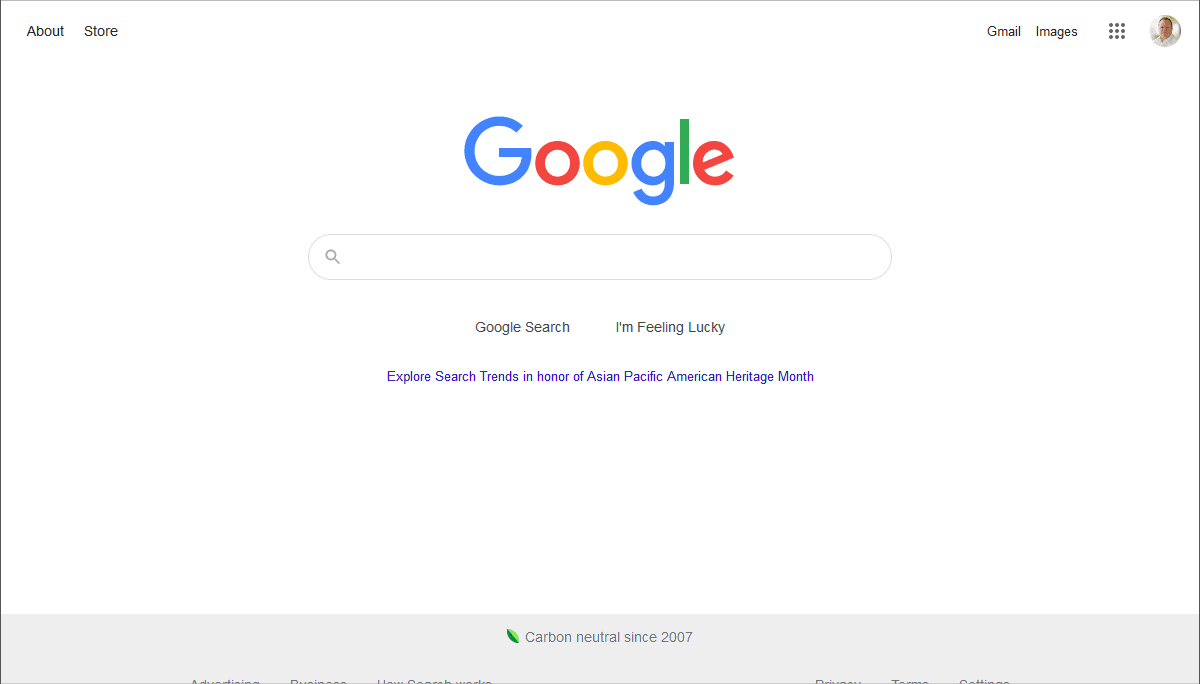 You can use the color slider to adjust the color picker or click with your cursor anywhere on the palette to instantly update the color values across the different models. Although the initial color value starts with hexadecimal, all five color models are individually editable. That way if you change any one of them, the rest will update accordingly.  Once you've nailed down your favorite color, the tool also allows you to share it with social media and email sharing options, simply by clicking the share icon.
Conclusion
There is much more functionality in a search engine than simply finding content on websites. Each of the five Google calculators and converters discussed above are handy tools for everyday use, at work or even at home. Also, Google is constantly updating their offering. As you use these tools over time you will likely see additional or adjusted functionality, depending on their usage and lifecycle.
Additional Related content