For marketers seeking a deeper understanding of the sales process and customer journey, call tracking represents a powerful tool that can yield valuable insights. Call tracking enables marketers to get real-time insights into customer buying habits by collecting valuable data from incoming calls. From learning more about their buying preferences and behavior to understanding which advertisements generated those calls, call tracking helps businesses better measure how effective their campaigns are—so they can make sure they're investing in the right efforts at the right times. In this blog post, we'll break down what call tracking is, how it works, and how DiscoverTec can help you add this valuable conversion tracking tool to your online campaigns.
What is Call Tracking?
Call tracking is a method of monitoring and analyzing incoming phone calls to a business. By using specialized software, each call is assigned a unique tracking number, which allows marketers to collect data on the call, such as the time and date, duration, caller ID, and geographic location. This information provides insights into the customer journey and helps marketers understand which marketing channels are driving phone calls. It can be an essential tool for businesses to use, especially those who heavily rely on inbound calls for customer acquisition and sales. Call tracking also enables marketers to assess the performance of their advertising campaigns and identify opportunities for improvement. With this valuable data, businesses can optimize their marketing efforts, improve customer experiences, and increase sales.
How Does Call Tracking Work in a Digital Marketing Campaign?
Call tracking works by assigning a unique phone number (usually a local or 800 number) to each marketing campaign, advertisement, or landing page. When a customer calls the assigned number, the call is automatically routed to the business's main line while also recording data on the specific campaign that led to the call.
The call tracking technology can track the following information:
caller ID information (phone, location, name)
call details (date & time, duration)
call recording
call source (traditional ad/digital ad, PPC/SEO)
Back in the day, your return on investment (ROI) was measured by attributing calls to a single lead or sale, but advancements in the technology now allow for integration with Google Analytics and call level attribution to all sources.
Modern Enhancements to Call Tracking
Call level attribution can now be tracked for the following sources:
paid
organic
direct
referral
social
With this comprehensive data, businesses can make more informed decisions on where to allocate their budget for maximum ROI. Beyond tracking and attribution, call tracking can also provide insights into customer behavior (time of day, seasonal trends) as well as voice-of-the-customer data to help fine tune products and services.
Dynamic number pools and scripts are two key components that make modern call tracking possible.
Dynamic Number Pools
Dynamic number pools are a technique used in call tracking to dynamically assign unique tracking numbers to each website visitor. Rather than using a static tracking number for all visitors, dynamic number pools allow marketers to use a different phone number for each website visitor based on various factors such as the marketing channel they arrived from, the search query they used, or the geographic location they are in. By assigning a unique phone number to each visitor, marketers can track which marketing campaigns are driving phone calls and gain insights into customer behavior.
Scripts
Scripts are a key component of dynamic number pools, as they are responsible for swapping out the phone number displayed on a website depending on the visitor's attributes. Scripts can also collect additional data about the visitor, such as their browser type and referral source, which can help marketers understand which marketing channels are driving the most calls.
Using CallTrackingMetrics
At DiscoverTec, we have found CallTrackingMetrics to be the ideal call tracking platform for our clients. CallTrackingMetrics is a cloud-based call tracking and automation software that enables businesses to track, manage, and analyze their phone calls from a single, user-friendly platform. With CallTrackingMetrics, businesses can assign unique phone numbers to each of their marketing campaigns, track which campaigns are driving phone calls, and gain valuable insights into customer behavior. The platform also offers advanced features such as call recording, automated call routing, and SMS messaging, making it a comprehensive solution for call conversion tracking.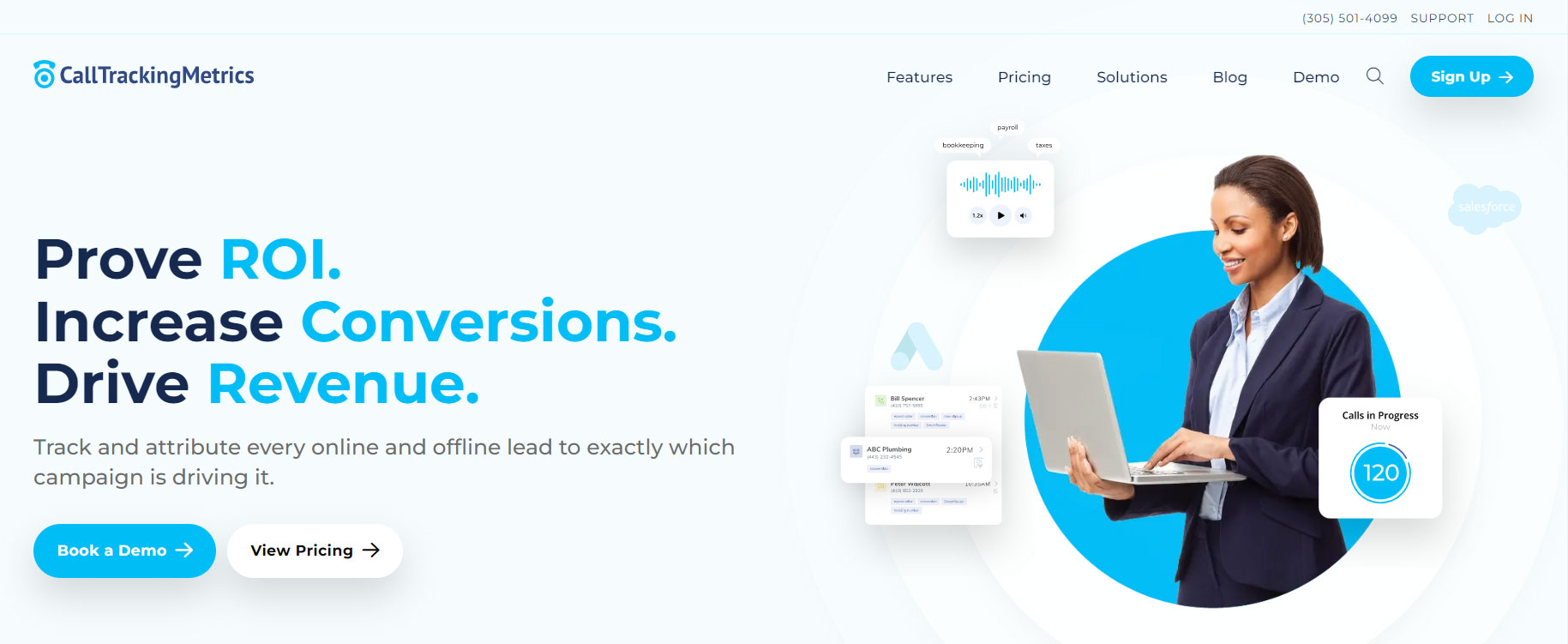 Flexibility is another key reason why we prefer CallTrackingMetrics as our primary call tracking platform. With this software, we can easily customize our call tracking setup to match the unique needs of each of our clients. We can choose from a variety of tracking numbers, set up dynamic number insertion for specific marketing channels, and even create custom call flows for each tracking number. Additionally, CallTrackingMetrics offers integrations with many popular marketing and CRM platforms, allowing us to seamlessly sync call data with our clients' existing systems.
Overall, we believe that CallTrackingMetrics offers the perfect combination of features, flexibility, and ease-of-use for call conversion tracking. Whether our clients need basic call tracking or more advanced call automation and routing, CallTrackingMetrics provides the tools we need to help them gain insights into customer behavior and make data-driven decisions to improve their marketing efforts.
Conclusion
In today's data-driven business landscape, call tracking has become an essential tool for understanding customer behavior and optimizing marketing efforts. By tracking and analyzing phone calls, businesses can gain valuable insights into customer preferences, pain points, and buying habits, and use this information to improve their conversion tracking strategy. At DiscoverTec, we recognize the importance of call tracking, and that's why we have chosen CallTrackingMetrics as our go-to call tracking platform. With our expertise and experience in call tracking setup and management, we can help businesses of all sizes take advantage of this powerful technology to achieve their marketing goals. Contact us today to learn more about our call tracking services and how we can help you improve your conversion tracking strategy.