When moving your business online, one of the most important decisions you will make is choosing the e-commerce platform that's right for you. For many businesses, Amazon seems like the logical first choice as they are the giant of the e-commerce industry. But Amazon is not the only choice. There are options out there and we're going to take a look at one of the biggest e-commerce platforms - Shopify and stack it up against Amazon.
A Record Year for E-Commerce
2020 was a year like no other. The coronavirus pandemic affected every aspect of our lives including our shopping behavior. We collectively shopped more from the comfort of our homes than ever before. As a result, it was an incredible year for e-commerce retailers. According to Digital Commerce 360, online spending accounted for more than 21% of all retail sales in the U.S.
Consumers spent over $861 billion (about $2,600 per person in the US) with online merchants last year. That represents an eye-popping increase of 44% from the previous year's online spending.
The #1 Online Retailer Last Year – Guess Who?
It should come as no surprise that Amazon held the #1 spot in the U.S. representing over 31% of all online sales per Digital Commerce 360. In fact, according to Statista, Amazon had more online sales than all other top 10 online retailers combined, hauling in a commanding $269 billion plus in 2020.
There is no doubt, Amazon is still the most dominant e-commerce company in North America.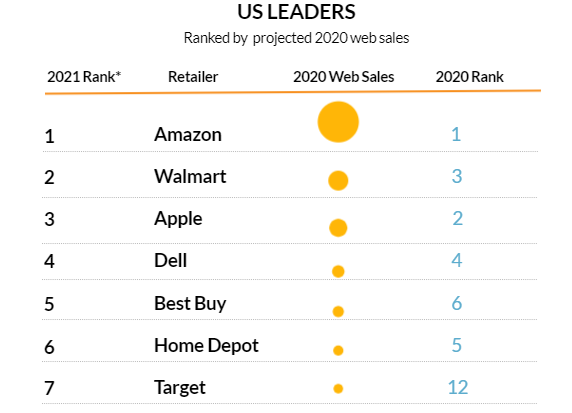 Challenges with Amazon
When you are the biggest e-commerce entity, you can set your own rules. That doesn't however, make you the best, and Amazon has been known for setting the prices it will pay or the margins it will make when dealing with sellers. If you are a small retailer, you will pay more going through Amazon and must hope that you will make up for it with higher sales volume. If you have sufficient sales volume, Amazon will purchase directly from you and fulfil all orders themselves. This seems like a dream come true for many, but the reality is, this too comes with some challenges.
"We found that it was easier and more profitable for us to handle our own fulfilment than to continue using Amazon to warehouse and ship our products," said Jason Booth, Vice President of Sales at Link My Pet, a pet tech wearable company. "We found our margins were lower and the pricing of our products on Amazon were no longer under our own control," he noted.
Link eventually brought all fulfilment back in-house and while they will continue to sell some on Amazon, they have focused the bulk of their efforts on their own e-commerce website. They chose Shopify, one of the most popular online storefront platforms available.
Shopify vs Amazon: What's the Difference?
At first glance, the difference between the two platforms is quite apparent. Amazon offers you a ready-made marketplace for you to list your wares, whereas Shopify provides you with the tools to create your own standalone e-commerce store.  Amazon receives over 2.5 billion visitors a month. Shopify powers over 1 million e-commerce websites, handled over $100 billion in online revenue in 2020 and has 31% market share among standalone e-commerce platforms.
Amazon is an online marketplace and destination website for almost every online shopper at some point in their buyer's journey. It appeals greatly to shoppers, especially if you are a Prime Member, you get free return shipping and free product replacements with pretty much no questions asked in the first 30 days. Amazon spends millions in advertising dollars to drive shoppers there. When it comes to Shopify, you will have to invest your own time and money to drive visitors to your site.
Amazon vs Shopify: Who Wins Where
Traffic
Amazon is a behemoth in e-commerce and eclipses most of the competition. The platform is unbeatable when it comes to monthly traffic. They also have an already established brand, so shoppers are more likely to take a chance on you and your products even when you're new to the platform. They will likely spend more on advertising the Amazon brand than you ever will on your own.
Overall Traffic Winner = Amazon
Fulfillment
Amazon can handle your products through its Fulfillment by Amazon plan, where you get access to the third-party seller community, shipping discounts and Amazon customer service. If you sell products on your own e-commerce website, you'll likely have to account for warehousing, inventory management, shipping and returns.
Overall Ease of Fulfillment = Amazon
Return on Ad Spend
The competition on Amazon is extensive and you will be competing with millions of other sellers to get your product out there. And the simple truth is, not everyone can be a number one seller on Amazon. If you want to rise above your competitors within Amazon, you'll have to spend money to promote yourself and feature your products in a way that sets you apart from the competition. That means you could wind up paying Amazon twice. Once to promote yourself and again at the point of sale.
If you spend your ad dollars driving shoppers to your Shopify site, you get the direct benefit of those more profitable sales since your margins will be higher. In general, your ROAS or Return on Ad Spend will be higher.
Better ROAS Winner = Your Own Shopify Website
Consumer Data
Amazon in all likelihood has one of the world's largest collections of consumer data. They know shopping behavior better than anyone, however, that data is not shared with advertisers or sellers in any great detail. If you invest in driving traffic to your own Shopify website, you can measure exactly what shoppers are doing on your website and what is converting.
Winner for Better Customer Data = Your Own Shopify Website
Pricing
As we covered earlier, Amazon will often set what price to sell your product for or at the very least dictate the margins they will make. With Amazon, even when you can make price changes, they may not happen immediately and may still be subject to Amazon's approval. When you run your own e-commerce site with Shopify, you own complete control over pricing and can make changes almost instantly as needed.
Greater Pricing Flexibility = Shopify
Freedom & Flexibility
Shopify's platform is built around being able to customize and as such, you'll have greater flexibility to test. Shopify can also integrate with specific third-party testing tools like Optimizely or VMO. You cannot integrate any of these within Amazon.
Winner with Greater Freedom to Test = Shopify
Branding
Shopify is great for those who want to sell their own products, because you have full control to customize your brand and your product offerings. On Amazon, you will have less ability to distinguish your brand and stand out among your competitors. In addition, you must strictly adhere to the rules for buyer communication on Amazon, and you don't get the freedom to sell what you want. On Amazon, shoppers recognize brands less and focus more on product pricing and how fast they can get it.
Greater Control Over Your Brand = Shopify
So, Which Is Better?
Selling products on Amazon is a bit like having a stall in a popular fair, the crowds will be there, all in one place and if you want, Amazon will even sell and ship whatever you're selling. Shopify allows you to brand yourself and build your reputation, to own your customer data and to customize and test what you sell and how, but you are responsible for bringing the customers to you.
This can make choosing between the two platforms difficult for some.
The "better" platform will ultimately depend on your business needs as a seller. Only you can determine what best supports your business. The good news is you can integrate the two to get the best of both worlds if you have trouble deciding!
If you want to learn more about Shopify, don't hesitate to get in touch with us. We're happy to explain features and benefits while including some real-life examples of our success stories.