Suppose you're trying to improve your website's accessibility and looking for tools to help you test or spot where you may not be in compliance, fix potential issues, or just managing compliance in general. In that case, we have the list for you.
Our collection includes some of the most common tools and other more obscure tools you may not be as familiar with. Besides being helpful in some way, they also share another trait – they're all FREE.
While these tools can help you make enormous strides towards accessibility, it's important to note that there is no free tool that will do everything for you automatically. No matter how you slice it, you'll still have to apply some expertise and put some manual effort into becoming compliant or maintaining compliance.
FREE TESTING AND ANALYSIS TOOLS
Here are a few of our favorite free testing tools that can help you determine how compliant your website is in its current state. We've organized the tools by type and then sorted them in alphabetical order under each.
MULTIPLE CRITERIA CHECKERS
These tools test your website against multiple guidelines and are mainly used to perform testing on a page-by-page basis.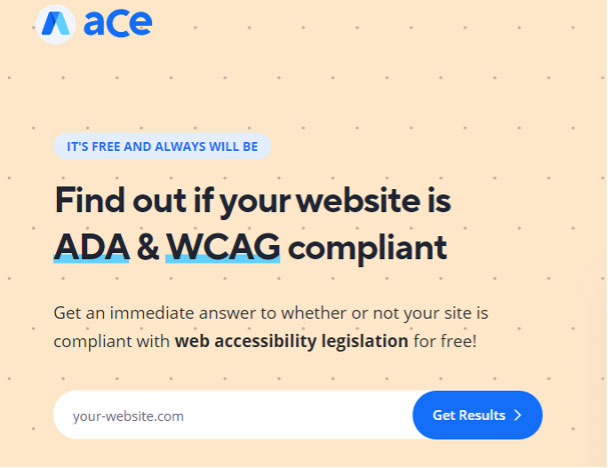 The ACE Tool– The ACE tool is a web-based testing tool that provides a detailed audit of accessibility issues in an easy-to-digest format. This tool online tool is a great way to determine your current baseline for accessibility across various guidelines. The audit even includes specific examples of failures and successes. And while it is limited to only auditing your homepage, let's face it, for most websites, that is the most visited page.
ANDI Toolbar– The ANDI Toolbar is a free browser plugin created by the Social Security Administration that can assist with scanning your website for a variety of different issues like image alt text, form-related issues, structure-related issues, etc. There is a bit of a learning curve to this product, and some users may find it challenging to navigate.
CynthiaSays– CynthiaSays is an online tool that allows you to scan your site on a page-by-page basis. This offers a simple, no-frills solution that can help you determine if your webpage is compliant and what level of compliance it meets (508, WCAG 2.0 A, AA, AAA). The tool is excellent to establish a baseline, but it only scans for the older version of 508 and the last version of WCAG (2.0).
The WAVE Tool (Web Accessibility Evaluation Tool)– The WAVE tool is a web-based testing tool that allows you to paste specific URLs on your website and have them scanned for compliance failures. It then provides you with a list of errors found on your website, including empty links, contrast errors, heading level issues, and alt text issues.
SINGLE ISSUE TESTERS
These tools zero in on a single issue or criteria, which in some cases will not be found using the list of tools above.
ChromeVox– ChromeVox is a free plugin for the Chrome browser. Google created it to allow for not only people who use screen reader technology but also for site owners to experience their website the same way as those users do.
Colour Contrast Analyzer– Colour Contrast Analyzer (CCA) is a tool that helps you find out if your website meets the minimum contrast ratio of 4.5:1 to meet both the WCAG AA and Section 508 criteria. The tool uses an eyedropper-like functionality to select the foreground and the background colors, and so you can check the contrast ratio.
Dead Link Checker– Dead Link Checker allows you to crawl your website for 404 errors, which helps with your accessibility and SEO.
Image Alt Test – The image Alt Test allows you to enter a URL and check if the images on the page have alt text attached to them. This tool also can tell you if an image can't be displayed due to the image source being broken or a slow internet connection.
Photosensitive Epilepsy Analysis Tool– The Photosensitive Epilepsy Analysis Tool created by the University of Maryland analyzes your site for any instances of blinking or flashing elements, which may affect people with epilepsy. Blinking and flickering on a webpage may trigger a user into a seizure. This tool allows you to identify these elements so you can modify or eliminate them.
It's important to remember that none of these tools will fix or remediate what they find for you. Ultimately you or a team member will need to make the actual fixes to make your site compliant. These tools work best when you use them to find places where you are non-compliant and then to validate that you've resolved the issues after having fixed them.
TOOLS THAT FIX COMPLIANCE ISSUES
Believe it or not, there a few tools that will do some of the accessibility compliance heavy lifting for you.
WC3 Accessibility Compliance Statement Generator– The WC3 created this compliance statement generator to quickly help website owners make a tailored compliance statement. It's an incredible time-saver. All you need to do is input your information into a few form fields, and it will generate a statement you can add to your site or continue to customize further if you wish.
YouTube– YouTube has one of the best free video captioning tools available. It allows you to synchronize captions to your videos quickly, and it even has a predictive tool that will analyze the video's audio and attempt to create captions for you.
TIP: if you chose to use this tool, always review the captions generated for a video after the audio has been process since the AI isn't always 100% correct.
You may not need every single tool in this list but having free tools available is a great thing! The more knowledgeable you are regarding accessibility compliance, the more value you'll get out of these tools. And as we mentioned previously, no tool on this list will find every issue on your site, let alone fix it.
If you still find yourself a bit overwhelmed with your testing or remediation efforts, we are ready to help. Just get in contact with us.